12 years ago, Andrew was an engineer nerd and an information junkie. Today, he's a theology nerd and an information junkie. He embraces few things with glee and nerd-dom is one. Last weekend, he dressed up with an unprecedented gusto and relish —we were going to a nerd party to celebrate a friend's 39th.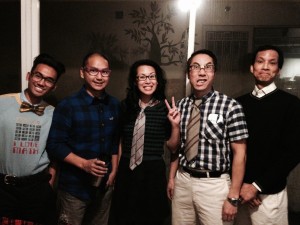 Now, it's Andrew's turn for festivity. My husband is 40. It has a nice ring to it.
He's 40 and he cuts his own hair. He's 40 and he's an introvert. He's 40 and he still has a little boy's grin, a little boy's zest for cycling and a little boy's wide-eyed wonder at life. Neurons in his brain have reawakened and synapses have connected in a way that would gratify any English teacher.  When he was 27, a non-linguistic math and science geek, he went back to school to study theology. His composition skills were in decomposition. But by the time he finished his master's degree, he was thriving in the humanities.
He never lost the little boy's drive to learn new things. To honor that gift, his inner nerd and the gift of his 40 years, I'm sharing a lovely piece that he wrote as one of three valedictorian reflections at his recent graduation from the Arrow leadership program.
Read it. You'll never guess an engineer penned it.

No Stone Unturned
My name is Andrew. Son of Daniel. The Cheung Clan has produced 6 pastors in two generations.  Some friends refer to the phenomena as the Cheung blessing — a simple country family from Guangdong province who love to serve Jesus.
My name is Andrew. Son of Susan. Her family, the Chu clan, looks to my great-grandfather with respect.  He gets the credit (or blame, depending on who you ask) for first introducing Communist thought in China through his writing as the answer to abusive and corrupt imperialist monarchy. He was a close member of Sun Yat Sen's brotherhood who vowed to overthrow the dynastic rule.  He died as a revolutionary fighting the imperial army at the age of 35.
I only just realized yesterday how significant these two family histories were in my motivation to come to Arrow.  Through three conversations with Curt, then Gretchen and the Kevin, my motives became crystalized.  I wanted to become an effective leader that combined the nation-changing revolution of my great-grandfather with the love and truth of Jesus treasured by my dad's family.
My approach to life has always been to "leave no stone unturned".  Question unanswered?  Turn over every stone until I was satisfied.  Answer given unsatisfactory?  Turn over more stones until a better answer was found.  However, when it came to my own awareness, this proved to be more challenging.  Self-awareness is not my greatest strength — Julia would attest to that.
So it was with great anticipation that I came to Arrow.  I looked forward to the 360 assessment, where I hoped no stone in my skill-set/gifts would be left untouched.  I looked forward to Dr Mitch time, where I hoped no stone in my soul would be left untouched.  Whether in conflict resolution, leadership development, teamwork, or evangelistic preaching, Arrow would serve as my opportunity to sharpen existing stones and build with new stones that would make me the nation-changing, Jesus-loving leader I felt called to be.  Led more. Lead more. Lead more.
But interspersed amongst all these building stones of Arrow's curriculum was another stone to which we were regularly told, "Pay deep attention".  Any other worldly leadership program would reject this stone.  This is no news to Christians since Ps 118 prophesies, "The stone that the builders rejected has become the cornerstone."
But this  Christian leader before you had lost sight of how crucial this cornerstone actually was.
Arrow for me has been a journey to lead not more with the building blocks of the world, but to lead more like the cornerstone of our faith, Jesus Christ himself.
Leave no stone unturned.  Our cornerstone, Jesus, invites us to not only leave him unturned, but to fall upon him, be broken to pieces and be renewed to lead in His likeness.  Leadership that is other-centered, sacrificial, committed and overflows out of identity in and intimacy with the Father. By God's grace and the power of His spirit, may it be so in my life and yours.
This is my Arrow journey and prayer.