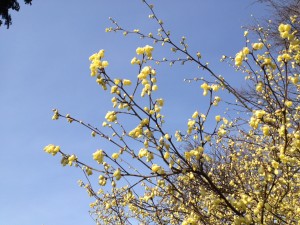 My mom, a little Asian woman with a huge smile and a fierce child-like wonder, is weeping over lunch.
She is telling her two daughters about favor from God. She's been on furlough in North America from her missions work in China and she's reflecting on the bounty of this summer. She is thanking God for letting her find the perfect size curlers on a thrift-store hunt and for being able to go to San Jose to visit her newborn grandson…and her favorite exercise guru.
It's a rare moment for her. Both of her daughters are sitting there, sans husbands, sans kids, giving her their full attention. This she rarely gets.
She's orating passionately on her thrift shop finds. They are trivial to everyone but her. And she feels their importance so keenly. Whenever she receives a little blessing in life (that great thrift store find! or in that sweet parking spot!), she attributes it to God. And she really really needs to share. When she does, she is so overcome with God's goodness to her—that He would see her needs from heaven and provide, even though she doesn't deserve it at all—it brings her to tears.
I am almost crying too. But I'm also kind of embarrassed (as I have been my whole life) by her antics. I know how people roll their eyes behind her back. I know her brash vulnerability and enthusiasm are too much for the worldly wise. I'm aware of the controversies that her passion has stirred, of how many people she can rub the wrong way.
I'm also kind of unnerved by how similar I am to her.
This post first appeared on ibelieve.com. Mosey on over there to read the rest…