This post was first published at Sheloves Magazine.
Yes, I admit it. I have never been faithful to one hairdresser. This isn't the hairdressers' fault. It's really a function of 1) my perfectionism and of 2) my insecurity.
I've tried a gazillion different hairstyles: long, short, medium and variations in between. Nothing satisfied. Nothing achieved the ends of being both flattering and trendy.
But this year, at the age of 33, I finally discovered the perfect hairstyle.My friend Maureen had ordered "bun makers" from the internet, bendy thin metal sheets wrapped in black foam. "Sock buns" were all the rage. Girls were wrapping a sock or a donut-sponge inside long hair to give the impression of a larger top-knot. Maureen's "bun makers" were another variation of that theme. She gave me one. Lo and behold: it was my hair's salvation!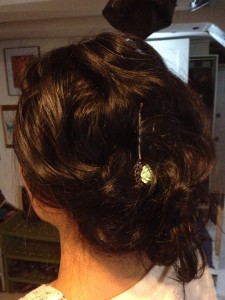 Mosey on over to Sheloves Magazine to read the rest of this post. Thanks!