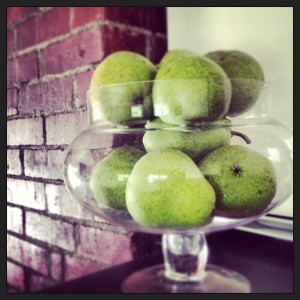 Ryan pokes his head through the kitchen door and greets us in his typical sing-song British fashion. "Jogger Pairs!" he exclaims, unlacing his military boots to join us at the table, "very nice." I squint at him quizzically, trying to decipher what new British terminology he is now introducing. For the past month, Ryan and his wife Leah have been tutoring us in the wild and wonderful subject of British Anglicisms: "Pudding"  is dessert and "custard" is pudding. "Asian" is South Asian and "car boot" is a trunk. What, I wonder, are "Jogger Pairs"? Is he referring to someone's sweat pants? So I ask.
"You know," he answers, gesturing to the jug of pears sitting on the table, "jogger pairs!"
Ryan is a rare species to me – one of few straight males I know interested enough in home decor to actually notice and compliment a jug of pears.  He's the same way with cooking and fashion. His wife Leah is a lovely, soft-spoken, blue-eyed, innocent looking creature with a handbag fetish (in England, a "purse" is for coins), a case of dormant road rage and opinions to match. I myself am a closet Britofile, absolutely tickled to pieces that God has chosen to drop this idiosyncratically cute yet powerhouse couple off on the front step of our humble little church.
Bristol Meets Vancouver
God sent them on loan to us for four brief months. The day before they flew off to Canada, two year-old daughter Elizabeth in tow, they had looked up local Vancouver churches on the internet and stumbled upon ours. They landed on a Thursday and that very next Sunday, walked through the church doors. Within moments, they said, they felt like they were at home. Our church family did not dispute!
Ryan and Leah balk neither at cultural diversity nor at economic differences. Our church has plenty of both. Ryan is a music therapist who had a hand in starting a non-profit prison ministry in Bristol and Leah is a teacher and trainer with experience in social work. Their daughter is now three, and though she is their only child, she was not their first. As newlyweds, Leah and Ryan bravely took on the task of fostering then-11 year-old spark plug and bundle of energy, Isaac.  At a high personal cost, they parented the spiritual orphan like he was their own. They persevered through tantrums, vandalism, finger-biting moments of fear and insecurity and yet many sweet moments of grace.
Ordinary Heroes
Christ's command to love the unloveable permeates Leah and Ryan's attitude to life. Their stay with our church family was short. And that much the sweeter.  It was a needed reprieve for, I think, both us and them. It's a long haul when we are convinced that to be a Christian is to live a life of service: We desire to live incarnationally. We walk prayerfully through storms. We hold hands with the younger in faith and younger in experience. We dodge landmines of loss, frustration and disappointment. And we cling on to God's promises of the here but not-yet Kingdom.
And every now and then, we taste fleeting moments of harmony and unity without strife. These are moments when a young British family arrives unannounced on your Canadian church doorstep and slides seamlessly into your community life.
Leah and Ryan have introduced me to the Great British Bake-off, to the wonders of Fruit cake (the older the better…mmm…years even), to the English fixation with old houses and to the art of having good conversation over dinner that will last into the wee hours of the morning . But most importantly, this lovely trio of globetrotters reminded me that God is bigger than cultural divides, far larger than the span of the ocean, and continually at work in weaving together the story of redemption, even half-way across the world.