I've stepped into a time warp. I'm in the chalet room of an 80's style retreat centre, green and mauve carpet hedged by ivory walls and cedar-planked frames. A huge stone fireplace flanks the front wall and a blue velvet circle hangs above the mantle. The circle forms a backdrop for a small wooden cross, a wooden bowl and a white towel. I wonder if the bowl and towel gesture towards Christ's humility when He washed the disciples' feet.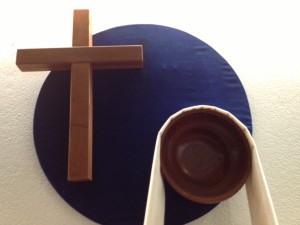 The average age in the room is close to 50. White and grey heads dot the room. A plump middle aged woman in a polyester shirt (white, flecked with large pink roses) pulls out an anachronism. An overhead projector. "Wow. I haven't seen one of those in years," murmurs my husband, beside me.
A thin greying gentleman in a khaki coloured Hawaiian shirt sits behind an old Yamaha piano and starts plunking out old choruses. His playing is loud, ostentatiously garnished. I am briefly caught between a familiar old desire to tune him out and a newer curious desire to succumb to the music. With resolve, I choose the latter. Voices chime in unison to worship their King:
Oh Lord, you're beautiful,
Your face is all I seek,
For when your eyes are on this child,
Your grace abounds to me.
I am struck that these are not just any voices. They are strong, whittled voices. Each voice represents years and years of faithful service, for I am in the midst of a large gathering of pastors. These are voices stretched and tuned by Sunday after Sunday, week after week of preaching, counselling, shepherding. They are voices that have served sometimes ungrateful flocks; they are voices that have walked beside hundreds through weddings and divorces, births and deaths, beginnings and endings, tragedies and triumphs. They are rich and confident voices, raw and desperate voices.
The old Keith Green lyrics well up from  memory. I am oddly overwhelmed (amidst excessive flourishes and trills) by a wave of both nostalgia and gratitude. The combined weight of these voices, the weight of what they represent, rings through the air. It presses upon me with a dull, unearthly ache.
I am, of course, now weeping. Humbled by the condensed beauty of these hearts uplifted in song, my pretence of urban sophisticated chic dissolves completely. Postmodern self-consciousness dissipates. What's left is timeless purity. It dawns on me that I wouldn't trade this raw kitschy moment for the all the gloss of all the stylized twentieth-century aesthetic in the world.